The Brands
Below are the brands that Falcon Co Tactical partners with.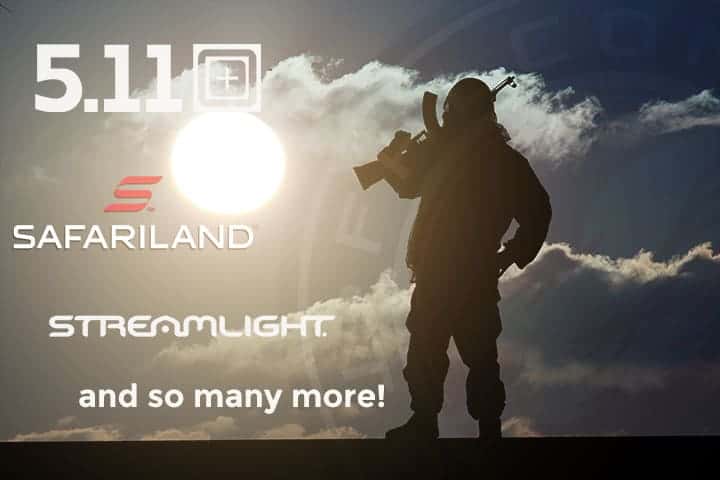 Variety of popular tactical brands.
Here at Falcon Company Tactical we put the time in as a U.S.M.C. combat Marine, a S.W.A.T. team leader and have trusted the brands we work with in the public-safety and tactical industry. We've researched the hell out of these brands because we depend on them for our safety as well as our friends and family that work in these first responder roles too.
From some of our apparel brands like 5.11 to our bags and pack gear from High-Speed Gear, Camelbak and Safariland, we have what you need. We are always open to working with a recommended brand, we are tactical gear junkies and love our brand relationships! A complete listing of brands we carry can be found below and, in addition, we carry many other specialized brands for our agencies only. Please reach out for additional information.
1,2,3
1791
2 Monkey Trading
3M/Peltor
5.11 Tactical
5ive Star Gear
A
A-Zoom
AccuSharp
Action Target
Advantage Arms
Aker Leather
ALG Defense
Allen
Altama
American Defense Mfg.
AmeriGlo
ASP
B
B5 Systems
Battenfeld
Benchmade
Beretta
Bianchi
Birchwood Casey
BLACKHAWK!
Black Hills Ammo
Blue Force Gear
Blue Training Guns By Rings
Böker
Bollé
BoreSnake
Boston Leather
Bravo Company
BTI
Bulldog Cases
Burris
Bushnell
C
Caldwell
Caliber Gourmet
Camo Unlimited
CMC Triggers
Colt's Manufacturing
Core Survival
Crimson Trace Corporation
Crosman
Crye Precision
Cylalume
CZ
D
DAC
Damascus
Daniel Defense
Dead Air Armament
Defense Technology
DeSantis
DeSantis Gunhide
Dickies
Drago Gear
Dynamic Entry
E
Eagle Industries
Echo Tactical
Eleven 10
EMI – Emergency Medical
EOTech
ESS
Eva-Dry
G
G-Outdoors, Inc.
Galco
Galco Gunleather
Galvion/Revision
Garrett Security Systems
Geissele Automatics
Gentex/OpsCore
Gerber Gear
GH Armor Systems
Ghost Inc.
Global Ozone
Grey Ghost Gear
Grey Ghost Precision
GunVault
H
Haley Strategic Partners
Harris Engineering
HATCH
Haven Gear
Hera USA
Hesco
Hi-Viz
High Speed Gear
HKS
Hogue
Holosun
Honeywell Safety Products
Hoppe's
Hornady
Howard Leight
Humvee
I
Industrial Revolution
INFORCE
K
KA-BAR
Kershaw
Kleen-Bore
Knights Armament Company
KNS Precision, Inc.
L
Lancer
LBE Unlimited
Leapers, Inc. – UTG
Leupold
Lockdown
Iosso
Lucas Oil
Luth-AR
M
Mace Security International
Maglite
Maglula ltd.
Maxpedition
Mecgar
Mechanix Wear
Meprolight
Midwest Industries
Mil-Com
Monadnock Products
N
NAR – North American Rescue
NCSTAR
Nightstick
Nite-Ize
Nordic Components
North American Arms
North American Rescue
O
Original S.W.A.T.
Otis Technology
Outers
P
Pachmayr
Pearce Grip
Peerless Handcuff Company
Pelican Products
Plano
Premier Crown
PRO-LOK Tools
Pro-Shot Products
ProMag
Propper
PS Products
R
Radian Weapons
Revision Military
Rite in the Rain
Riton Optics
Rocky International
Royal Arms
Ruger
S
S&S Precision
Sabre
Safariland
Safe Tech
SB Tactical
Schrade
Seekins Precision
Sentry
Shield Arms
Sightmark
SilencerCo
Slate Solutions
Smith & Wesson
SnapSafe
SOG
Spike Devil
Springfield
Spyderco
Stack-On
Stealth Operator Holster
Steiner Binoculars
Sticky Holsters
Streamlight
SureFeed Magazines – OKAY Industries, Inc.
Surefire
T
TALON Grips Inc
TangoDown
Tannerite
Taran Tactical Innovation
Taser
TekMat
TenCate
Thin Blue Line
Trijicon
TROY
TRU-SPEC
Truglo
Tyr Tactical
U
Under Armour
US Optics
UST – Ultimate Survival Technologies
V
Vertx
VLTOR
Voodoo Tactical
Vortex
W
Walker's
Warne Scope Mounts
Wheeler
Wilson Combat